The "Catch-up" Blueprinting Workshop only $495!
New Product Blueprinting has undergone massive changes… in software, e-learning, BlueTools® aids, methods and Blueprinting Center. Now you can catch up in one-day for just $495… but only if you've received prior Blueprinting training.*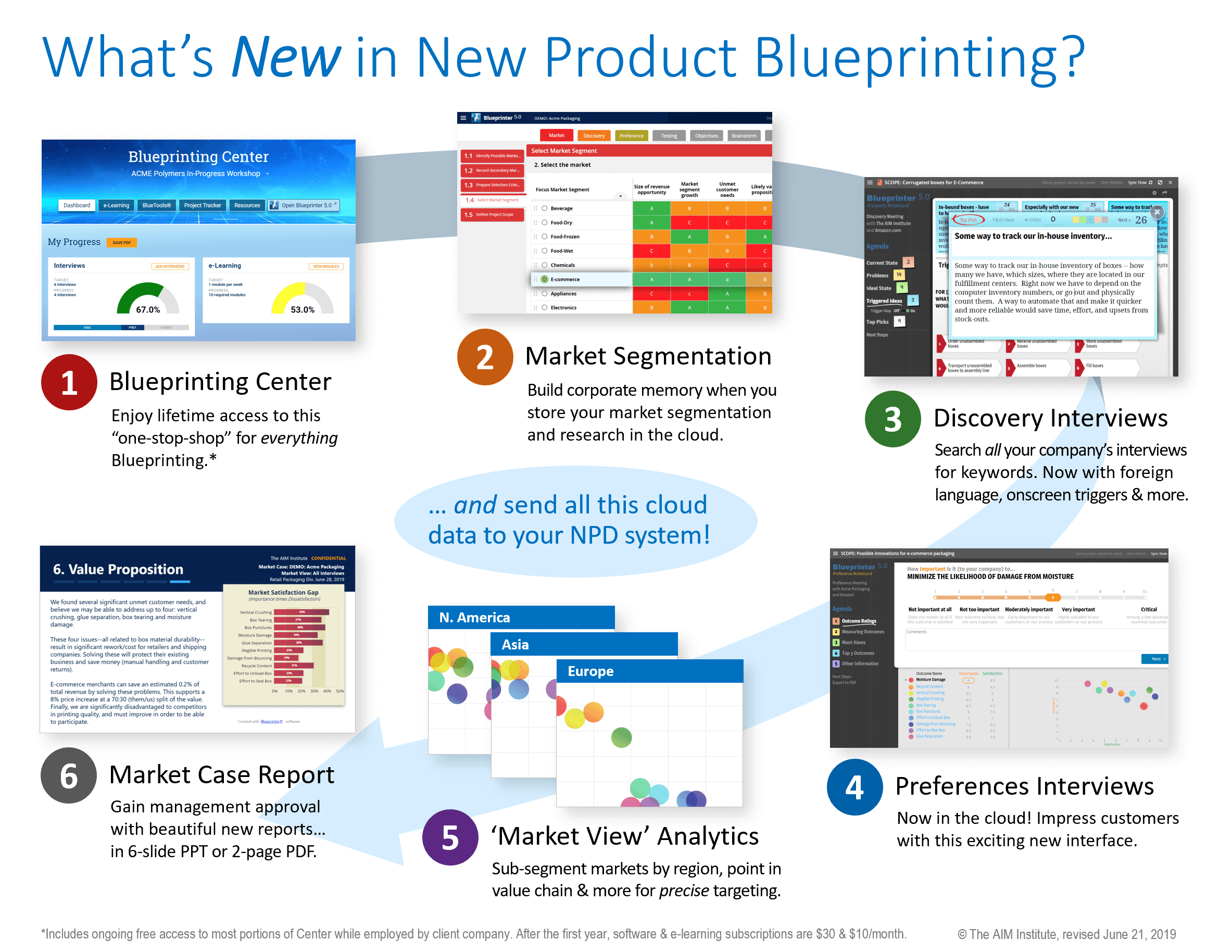 Everything you need is now in the cloud!
What you'll get:
1 Year subscription to Blueprinter 5.0 and updated, mobile-friendly e-learning ($420 value)
Lifetime access to the new Blueprinting Center
Role-playing using our latest probing techniques
Mastery of many exciting new tools
Interaction with other Blueprinting practitioners from the world's top B2B companies
What's new:
Impress your customers with cloud-based Discovery and Preference interviews
Use powerful new cloud-based market segmentation tools
Find "all things Blueprinting" in one place now… with lifetime access to the Blueprinting Center
Create "Market Views"… to analyze Preference data by region, value chain position and more
Build beautiful Market Case PDFs and PPT slides for management presentations
Search your entire company for customer keywords on all its Discovery sticky notes
Feed data from cloud-based Blueprinter directly into your stage-and-gate NPD system… and more!
Registration Information
The cost for this workshop is only $495, which includes the latest software, access to the Blueprinting Center and other learner materials and techniques described above. You'll receive everything NEW learners pay $2995 for at our 2-day open workshop. Select "Register Now" below. Space is limited, so register soon!
Our clients have been making impressive growth strides with Blueprinting interviews, as our recent research shows. Now your company can fully leverage it's past investment in Blueprinting training. Start with this open workshop… then bring it in-house if you have many employees to catch up!
*This offer is only valid for those who have personally attended Blueprinting training and received some version of Blueprinter software (even if a very old Excel-based version).
Upcoming workshops
Never been trained in Blueprinting? Check out our 2-day open workshops.