We bring New Product Blueprinting training to you.
With AIM's private workshop training, your technical and commercial people will learn New Product Blueprinting… the world's leading method for B2B front-end new product development. Your employees will gain new skills and tools to take your innovation—and organic growth—to a new level as many others have. (See over a dozen AIM case stories.)
It's not just that Blueprinting methods are radically different. Our blended learning approach is unlike anything you've experienced. We work closely with your real-project teams for up to a year, as they build their skills from…
Interactive workshops
In-team coaching web-conferences
Self-paced e-learning
Blueprinter® software
BlueTools® new product development aids
BlueHelp® knowledge center
Kickoff workshop… virtual or in-person?
You'll invite several multi-functional new-product teams to this workshop, where they'll learn listening, probing and interviewing skills in intensive role-play breakout sessions. You can be equally successful with a virtual or in-person workshop, and each has its advantages:
In-person: Perhaps you're bringing your employees together for another meeting. Set aside a good portion of two days and enjoy the personal interactions of an AIM Trainer and Coach with your people.
Virtual: You'll get the same training with these added advantages: Your teams will role-play virtual VOC in their breakout sessions, and you can save considerable travel expenses.
Your costs are low with either approach… usually just $2-3000 per person for the entire program. Visit Training Plans and Pricing and check out the matrix of plan options at the bottom. You can enter the number of  your employees and teams to calculate costs for the two private plans: "Business" and "High-Growth."
In-team follow-up coaching
We don't believe in "parachute" workshops, where the trainer drops in and says "good luck" at the end. Instead, your AIM Coach holds frequent web-conferences with each team to refresh their learning, address questions, and ensure forward progress. Visit In-team Web-conference Coaching Plan to see the 12 typical sessions AIM coaches conduct.
Self-paced e-learning
We're sure you've never seen such in-depth training for B2B front-end innovation: 31 e-learning modules filled with concepts, methods, and skills you won't find anywhere else. Each week, learners receive a reminder to take the next 20-to-30 minute module… on market segmentation, customer tours, setting up interviews, value calculators, probing skills, competitive testing, business cases or a host of other topics.
Blueprinter® software
When your new-product teams use our software to manage their front-end of innovation, good things happen:
Better Customer Experience: Your customers will be impressed by your professionalism. They'll feel "listened to" by competent interviewers using the latest tools, which strengthens your relationship with them.
Team Collaboration: Team members automatically synchronize their work and store shared documents, boosting team productivity across time zones.
Project Roadmap: Teams never have to ask "what next?" They'll follow a proven path in the front-end of innovation, avoiding pitfalls and reinforcing best practices.
Corporate Memory: Your company will build a huge repository of detailed project data. Projects can be accessed by team members and company leadership from anywhere.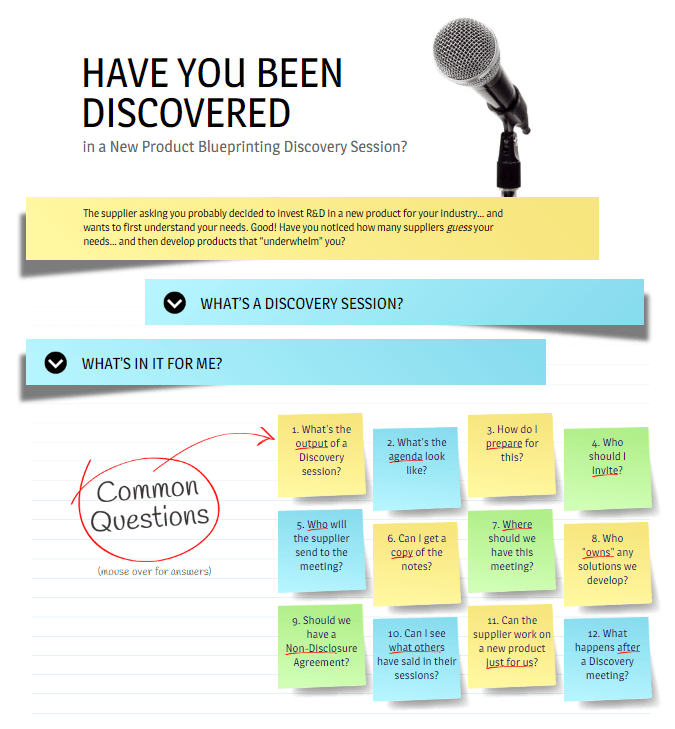 BlueTools® new product development aids
Your teams will have access to over 20 BlueTools new product development aids so they can do their work with utmost professionalism and efficiency. BlueTools new product development aids help you… conduct secondary market research, recruit customers for interviewing, collect data during customer tours, debrief after interviews, set product objectives, build a value calculator, pressure-test your business case… and much more.
BlueHelp® knowledge center
This is the world's most advanced and complete library of practical advice for B2B customer insight and the front-end of innovation. With hundreds of articles and a powerful search engine, your teams will continue to build their skills for years to come. Not sure how to… convince customers to be interviewed?… handle requests for NDAs?… find the best digital projector to use in interviews?… analyze your interview data to detect sub-markets? It's all here.
What happens after your teams are immersed in this blended learning approach for up to a year? Three things:
Exciting new-product projects are advanced
New skills are learned for future projects
A new "outside-in" culture takes root
Ready to start Blueprinting?
Isn't it time to join some of the world's leading B2B companies in using Blueprinting to master customer insight? (See case stories.)
Contact us to learn more or set up a free consultation.