Speaker-Leadership.php
Dan Adams
President
Dan Adams is the Founder and President of The AIM Institute, and author of New Product Blueprinting: The Handbook for B2B Organic Growth. In over 40 years working within and with Fortune 500 corporations, he has explored all aspects of B2B innovation, building New Product Blueprinting from the ground up. He is a chemical engineer and holder of many patents and innovation awards, including a listing in the National Inventors Hall of Fame.
One of the foremost experts in B2B innovation, Dan has taught tens of thousands of B2B professionals in every region of the world in hundreds of workshops. An award-winning speaker, he has lectured at Wharton's Executive MBA program and other North American & European universities, and is a popular industry keynote speaker.
In addition to pioneering New Product Blueprinting, Dan Adams has created two other methodologies in the product development space. The LaunchStar®  process guides teams through advanced B2B product launches. And the Minesweeper® project de-risking methodology is used to detect and avoid "landmines" in transformational projects.
In recent years, Dan Adams and his team have conducted significant original research into the behaviors that drive B2B organic growth. Because he regularly works with the largest B2B firms in the world, he can help your leadership team establish a dependable roadmap to profitable, sustainable organic growth. A good starting point is the B2B Growth Diagnostic developed by Dan and The AIM Institute team.
To discuss ways Dan Adams can help your company or trade association better understand the exciting possibilities for B2B customer insight and innovation today, contact us.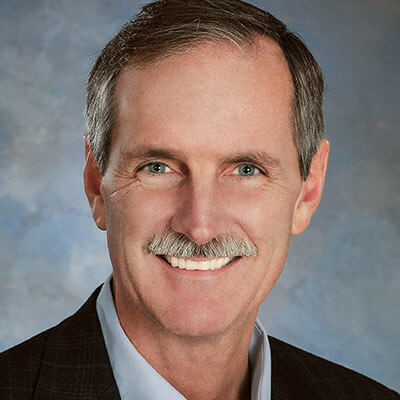 Contact
Compelling Speaker
Dan logs up to a quarter-million miles annually speaking to groups around the world. He is a frequent keynote speaker at major trade association events, where he inspires B2B innovation and sustainable, organic growth. Since 2005, he has taught thousands of B2B professionals in hundreds of in-depth workshops. Download his speaker kit.
"He is one of the best speakers I have had and one of the best to work with behind the scenes…Dan's enthusiasm, personal skills and genuine interest in changing mind-sets and teaching the skills/process needed to excel in product innovation is unparalleled."

– Connie Howe, Adhesive and Sealant Council

"Dan spoke at our annual member's meeting on all things innovation, and he was fantastic! His story was crisp and clear, and he maintained very high energy on the stage. He'd be a great addition to your event."

– Suzanne Lavin, Executive Director for The Institute for the Study of Business Markets
Impactful Trainer
Dan and the AIM Institute training team know you don't develop leading innovation practices from an armchair. Each year, he trains hundreds of global marketing, technical and sales professionals in every conceivable B2B industry. (70+% of this work is with Fortune 500 level companies.) Dan uses these in-depth workshops and 100+ annual coaching web-conferences to continue refining his methods… as project teams apply them in the crucible of real-world practice. Dan and The AIM Institute training team don't believe in "parachute workshops"… where the instructor "drops in" and wishes good luck at the end. Rather, AIM training blends several learning approaches over many months, as real teams advance their projects. Learn more about AIM's training in the front-end of B2B innovation, New Product Blueprinting, dynamic B2B product launch, LaunchStar, and high-stakes project De-risking.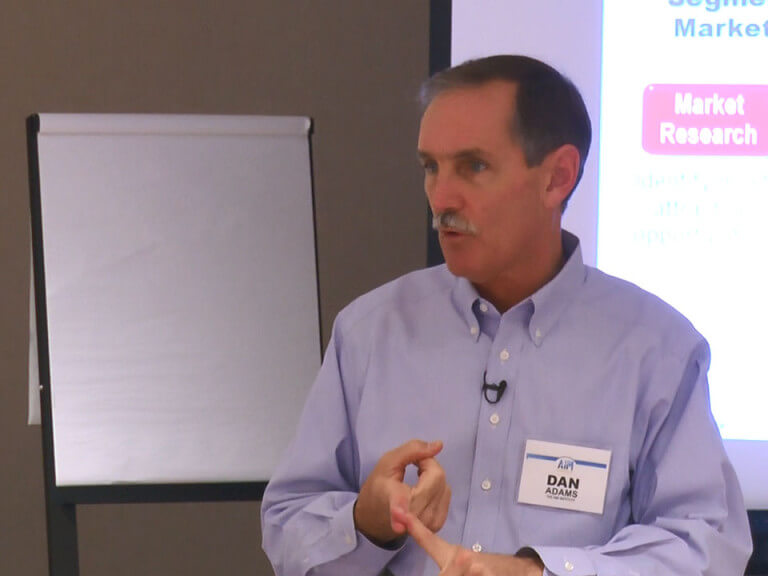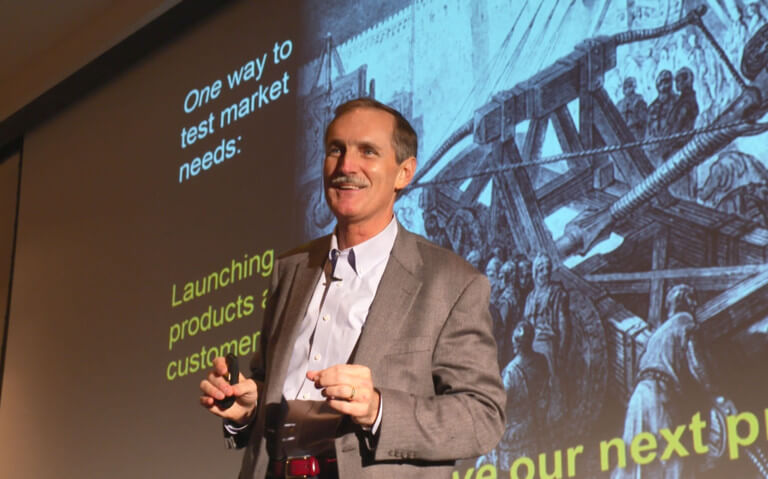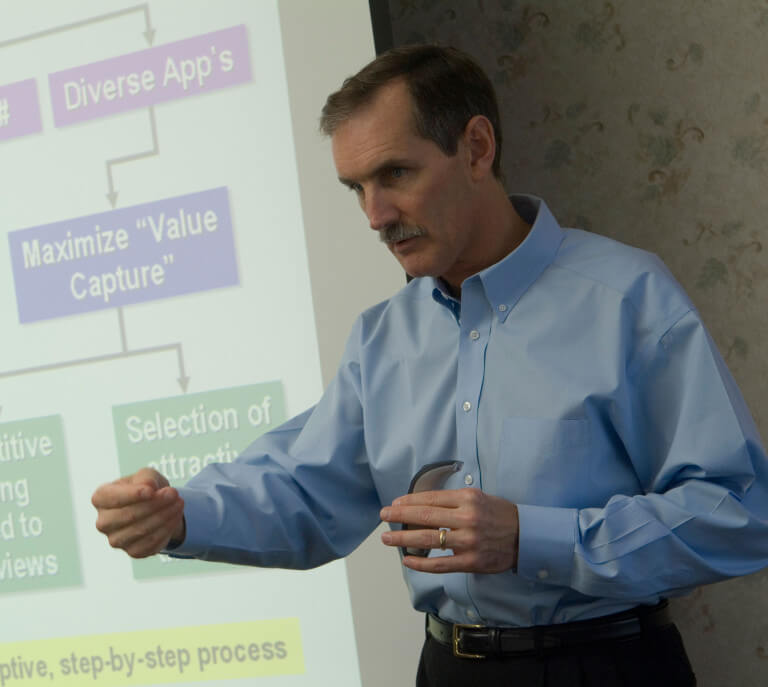 Webcasts
Dan and his team are continually conducting research into advanced B2B innovation and marketing, so there's a good chance he's already got a webinar that your trade or professional association members will love. For a full list of topics, please visit www.b2bgrowthcontent.com. Here are some examples:
New Research: How B2B Voice-of-Customer Skills Boost NPD Success
How to Reduce Risk in R&D Projects
12 B2B vs. B2C Difference: Why B2B Professionals have Advantages
How to Commercialize Technology in 6 Foolproof Steps
New Innovation Metrics to Drive your Organic Growth
9 Actions to Supercharge you Stage-Gate® Process
Virtual VOC: How to Understand B2B Customer Needs without a Plane Ride
Want to offer an exciting, thought-provoking webcast to the members of your trade association or organization? Dan is a seasoned pro, with a broad range of topics, high-impact graphics, a fun, friendly delivery, and engaging Q&A at the end. To discuss the possibilities, Contact the AIM office.
Quotes
Isn't it gratifying when you help your readers, audience, or colleagues stop and think in new ways? Perhaps these original quotes by Dan can help you "move minds." Please give attribution to Dan's main quotes below (in quotation marks). The text in grey is provided for context.
My first rule of battles is… you can't win one you don't know you are in.

1970's Detroit automakers didn't know they were in a battle for quality… but Toyota did. If a company doesn't know it's in a battle for innovation today, it could suffer even greater harm.

All great customer interviews are alike. Every unhappy interview is unhappy in its own way.

Taking a cue from Tolstoy's Anna Karenina… all great customer interviews are alike in one way: The customer does most of the talking. And usually about their needs. Anything else is clutter that often leads to unhappiness.

If you like confirmation bias, you'll love 'validating hypotheses'.

Confirmation bias occurs when we hear what we want to hear. Often troublesome in day-to-day life, it's devastating to a company's innovation efforts. Far too many companies lead the witness and try to "validate" their ideas with customers.
If you're paying attention, you can't miss the Innovation Wave.
Each week, about 100 books are written on the subject of innovation. For every single 1970's article on innovation, 100 are published today. Hard to believe, but just as Detroit automakers missed the Quality wave decades ago, some companies are missing the Innovation wave today.
Maximize shareholder value' is the pledge of allegiance recited in board rooms. It is a poor goal.
Often repeated without careful scrutiny, this mantra misguides many business leaders. Increasing shareholder value is a good result, but a lousy goal. A far better goal is: "Understand and meet the needs of our customers."
Don't expect your stage-and-gate process to do what it was never designed to do.
Such processes manage the interface between your company and project teams… helpful for portfolio analysis, resource planning, tracking, etc. But the spark of innovation comes from customer insight… so improve the interface between teams and customers with new skills and tools.
When analytical and discovery thinking compete in new product development, expect the former to dominate.
Analysis looks for what's been done wrong, while discovery seeks what could be done right. Failing to discover opportunities is a costly error, but paradoxically no one notices what you missed… until years later when a competitor notices and develops a blockbuster.
Imagine if doctors diagnosed patients the way many companies interview customers.
What if your doctor entered the exam room, and said, "I'll ask some routine questions to validate my hunch… so I can start my planned treatment"? Wouldn't you prefer a doctor who listens and asks intelligent questions? Your customers feel the same, so leave your hypothesis in the waiting room.
More companies rely on 'voice of ourselves' (VOO) than 'voice of the customer' (VOC).
Companies love to talk about the voice-of-the-customer, but most simply listen to themselves while creating "conference room" products. Teams gather internally to decide what customers will want in a new product. They'll lose to competitors who first immerse themselves in the customer experience.
Closely examine B2B innovation malpractice, and you'll see a pervasive disregard for customer needs.
Here's the irony: B2B customers have the only vote on your new product. B2B customers want you to innovate on their behalf. And B2B customers are eminently qualified to guide you. Yet many suppliers ignore B2B customers when innovating. This is a global pandemic today.
You can't achieve profitable, sustainable growth behaving like your competitors.
Unless a firm has smarter employees, an inherent and unassailable advantage, or a completely different way to satisfy customers… those pesky competitors will limit its growth. But what if your firm and its competitors were committing the same innovation errors… and your firm corrected them first?
You should interview B2B customers in a way that allows—even invites—surprise.
Here's the reality for B2B innovators: When they start using advanced methods to gain customer insights, they are usually surprised by what customers really want. This means they had been planning on developing the wrong product. This is a sobering experience more companies should experience.
When developing new products, you simply don't know what you don't know.
You only know what you know (facts)… what you think (assumptions)… and what you don't know (questions). In fact, real breakthroughs usually come from what you didn't know you didn't know (surprises). Since only your customers know this, you must let them guide you. Here lies the true spark of innovation.
Don't count on your R&D people being brighter than competitors'.
I sometimes ask business leaders if they think they'll win because their R&D people are 20% smarter than the competition's. Of course not. But what if their R&D worked only on problems customers really cared about… and competitors kept guessing what to work on? Now that's a source of true competitive advantage.
Is your operating plan promising faster growth than the markets you serve? Be nervous.
Do you think your competitors also plan to exceed market growth? So all the competing suppliers plan to grow faster than the market they serve, year after year. As Dr. Phil would say, "How's that been working for you?" Maybe it's time for a different plan. A plan built on innovation, not hope.
Everyone wants to go faster. Few want to start earlier.
As we begin training employees in B2B front-end-of-innovation skills, business leaders sometimes ask, "Can you make the project teams go faster?" I understand this… but a better approach would have been to not dither away so many months making a decision to start training in the first place.
Innovation requires attention to both Problem 1 and Problem 2.
Problem 1 (what's the right question?) focuses on market needs. Problem 2 (what's the right answer?) is all about your solutions. Most companies put 90+% of project spending into Problem 2, yet Problem 1 causes most new product failures. Hmmm… are you sensing a possible competitive advantage here?
Your new product development process is probably backwards.
If your new product development process begins with "idea generation," is it your idea… or your customers'? If you start with your idea, you probably won't understand customer needs until the end… by seeing if they buy your new product. Why not flip your approach and start with customer needs?
Asking an executive to focus on maximizing shareholder value can have troubling consequences.
If a stock's P/E ratio is 20-to-1, then only 5 percent of a firm's value is driven by this year's earnings. 95 percent of shareholder value is driven by investors' expectations of the future. Executives with rich stock options have "motive and opportunity" to manipulate these expectations… in ways that often damage the firm's long-term health.
Let's stop testing B2B market needs by launching products at customers.
Years from now, we'll think it quite strange that B2B companies explored market needs by launching products to see if anyone would buy them. In the future, B2B companies will have a complete understanding of market needs before they begin developing their products, let alone launch them.