To the sales professional…
Have you been asked by a colleague to set up a New Product Blueprinting Discovery interview with a customer or prospect? You probably have some questions…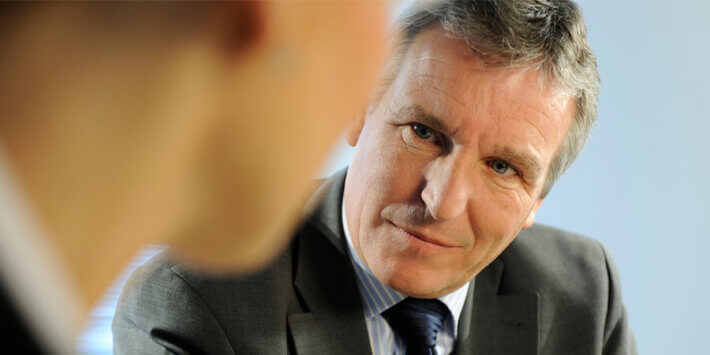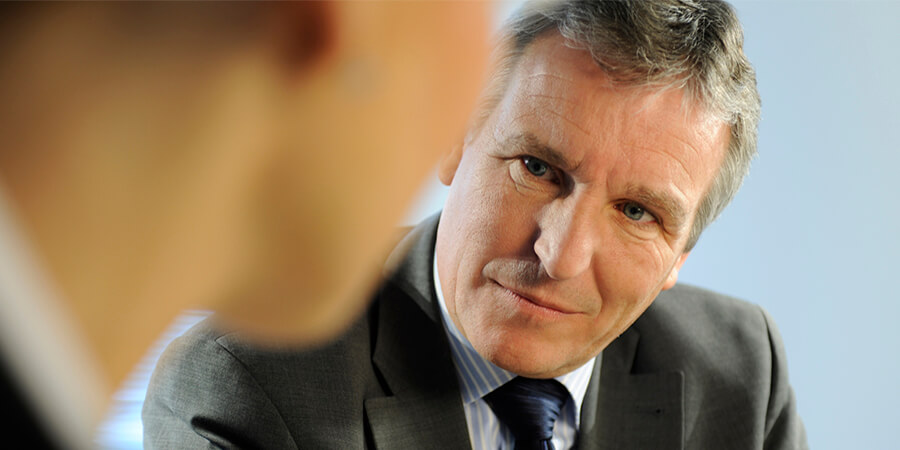 1. What does a Blueprinting Discovery interview look like?
New Product Blueprinting lets B2B suppliers develop better products and services by helping them "go deeper" than other voice-of-customer methods… in highly respectful peer-to-peer interviews. Two rounds of interviews are typically included: a qualitative Discovery interview followed by a quantitative Preference interview. We've condensed days of training into the following 34 minute module to give you the key principles and practices…

2. How do I answer questions customers have about these interviews?
We've already heard the most common questions from customers… and have included the answers in this one-page website… www.haveyoubeendiscovered.com (available in 9 languages). Please use this two ways: 1) Review it to familiarize yourself, and 2) send the link to your customer so they can get comfortable. Also, you can download an agenda template, which you can adjust and send to your customer.
3. Is this interview going to hurt—or help—my customer relationship?
Thousands of Blueprinting interviews have been conducted by Fortune 500 companies on six continents. The overwhelming feedback? Customers love the way suppliers listen to them, ask intelligent questions, spark fresh thinking, and treat them with respect.

Listen for yourself…
So a Discovery interview should help you build your customer relationship. If the last ten suppliers visited your customer to "sell what they already have," and you bring a team that truly listens to them… which supplier will stand out? Many customers find these sessions stimulating, even impressive… and they'll always remember the first supplier that conducted one.
As a sales professional, these interviews help you in other ways:
Gain new insights. Sometimes it's hard to ask questions if you've been calling on an account a long time. Let your interviewing colleagues ask these.
Engage new contacts. The very nature of a Discovery interview encourages a broad range of job functions—and levels—to attend. Use this to build new relationships.
Initiate side-projects. It's very common that short-term projects—and sales—arise even though the Discovery interview may be focused on a long-term project.
Enjoy long-term growth. If your interview feeds a long-term innovation project, you may not enjoy the sales this year… but you're planting the seeds for strong future growth.
4. How do I prepare myself for a Discovery interview?
First, watch the 34-minute module in section 1 above. Then visit www.HaveYouBeenDiscovered.com and review the answers to 12 common questions. Finally, download the Discovery Interview Quick-Start Card.
.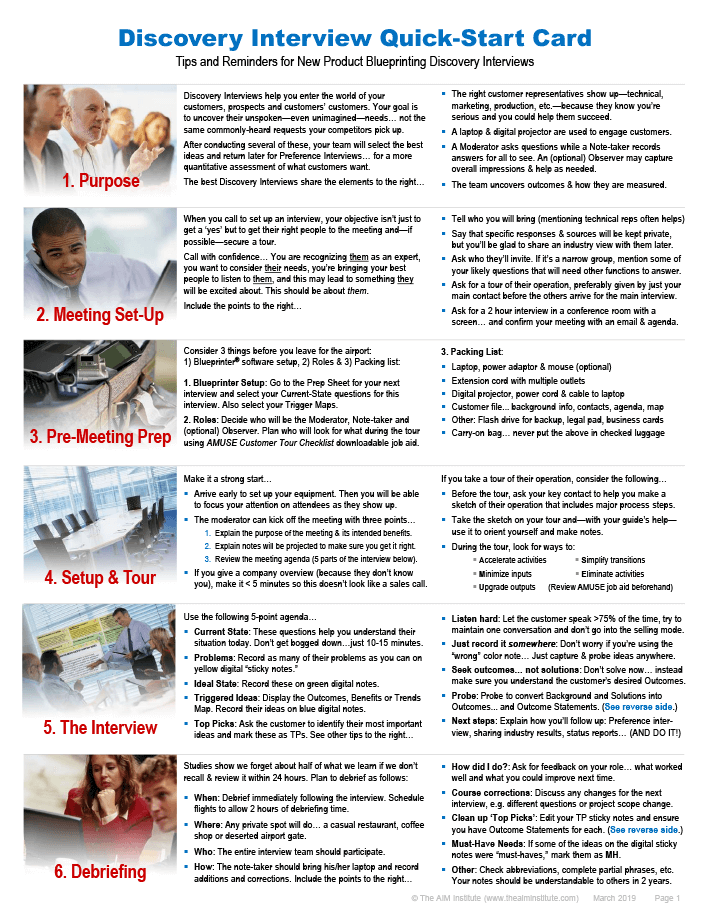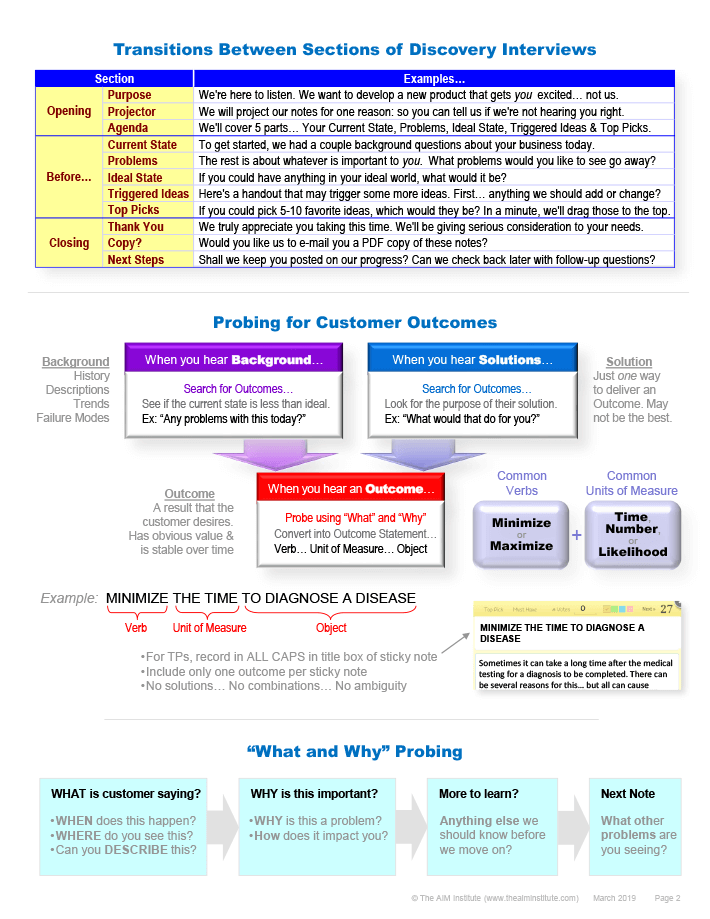 Page 1
Carefully review the front side of the Discovery Interview Quick-Start Card. It's loaded with tips on setting up interviews, taking a tour, debriefing, etc. Pay special attention to Section 5: The Interview. The most important thing to remember? NO SELLING during these interviews!
Page 2
You can place page 2 in front of you during the interview for reminders on how to probe. Your team's goal is to uncover and understand as many outcomes (desired end-results) as possible. This is NOT the time to solve problems. Your company can work on those later.

5. How do I ask my customer for a Discovery interview?
Use Phone Script. Do you already have a strong relationship with this customer? You may find that a phone call will be the best starting point. For this, download Script for Requesting Discovery Interviews … which has suggestions for setting up and discussing these interviews… and even handling objections.
Make Presentation. In some cases, it's better to ask for the interview in a face-to-face meeting. For this, download a starter PowerPoint presentation, Blueprinting Discovery—A New B2B Innovation Model, which makes a strong "what's-in-it-for-me" case from the customer perspective. Modify and add to this as you see fit. If the prospective interviewee is unfamiliar with your company, add 2 or 3 slides that describe your company and its capabilities. But don't overdo this. Remember… No selling.
Send Agenda. It's a good idea to download and modify the agenda template (also in section 2 above) for the interview you are planning. Then email this agenda to your primary contact. It's VERY important to ask your contact to forward this agenda to the colleagues he/she has invited. This way, everyone comes to the meeting knowing what to expect. Finally, be sure to make a follow-up phone call a week or so prior to the interview, to confirm who is coming.
Practice an Interview. Your comfort level—and skills—will increase if you get some Discovery Interview practice. Talk to the colleagues who will be joining you on this interview and see if they will set this up. If logistics are a problem, conduct a short Discovery role-play interview via a web-conference service e.g. WebEx.