Resources for "Business Builder" Leaders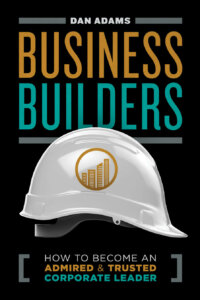 If you've read Business Builders by Dan Adams, you know most corporate employees think their senior leaders have lost the "Builder" mindset of the company's founder… and are too focused on appeasing near-term Wall Street interests.
Only a third feel their senior leaders are Builders, with the primary passion of driving growth by delivering differentiated value to customers. (Most leaders are seen as Remodelers, Decorators, or Realtors.) But we also found this can be an employee perception or communication issue.
We don't have all the answers, but we want to help. We'll be adding more resources to this page to support you. For now, here are some suggestions:
Discuss with your leadership team. Consider asking them to first take a free 5-minute assessment at AreYouABusinessBuilder.com.
Check out Chapter 12. This chapter, How Do We Change Our Business?, has some practical actions you can begin today.
Talk to the author. For Dan Adams, writing this book is just the beginning, and he's eager to help. (Reach him at TalkWithAIM.com.)
Attend a web-conference. Dan is hosting an informal Zoom call for business leaders to discuss our research and next-step suggestions.
Add this free webinar to your calendar below (no registration necessary)