Certifications in New Product Blueprinting
Just think how much you've learned with your Blueprinting training: You conducted interviews, viewed hours of e-learning, and moved a real project through the front-end of innovation. Now show the world your mastery of B2B customer insight with our Blueprinting certification programs.
What Blueprinting certifications are offered?
We have two levels… Certified Blueprinting Practitioner and Certified Blue Belt. Every time you learn and apply Blueprinting, you're naturally moving toward the next level. This means you're getting closer as you take another e-learning module… conduct another interview… complete a project Market Case… and pass an exam. Here are the requirements: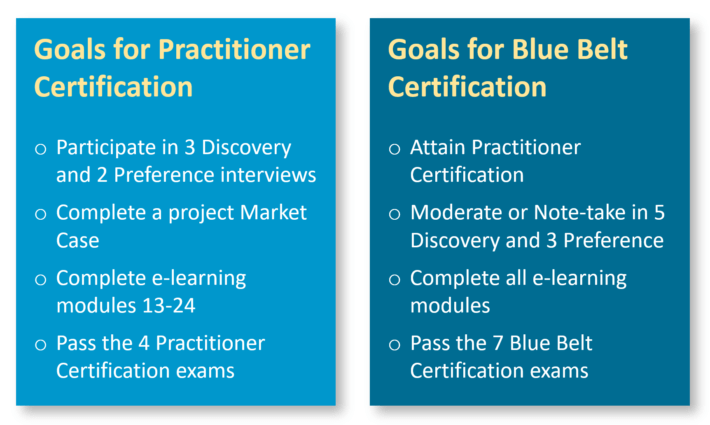 Don't be overly concerned with the above exams. 100% of the questions are based on content you'll find in your Blueprinting Center's BlueHelp® Knowledge Center… so it's easy to prepare yourself. And unlike many certification programs there's no extra cost for Blueprinting certifications.
How does this help me?
When you complete your certification, you can download a digital badge for use on your business card and resume. What if you move to a new company before completing your certification? No worries: We maintain your records, so just notify us so you can pick up where you left off.
Your Blueprinting certification puts you in an elite group. Think of it as the "special forces" of B2B innovation. In the past, professionals pursued expertise in Six Sigma or Lean. Today, companies are seeking professionals that are masters of understanding B2B customer needs. Its hard to imagine a skill more sought after today by B2B companies trying to improve their market-facing innovation. In other words, all of them.
How is my progress tracked?
You can follow your progress on the Home Page of your Blueprinting Center (effective April 16, 2021). Beyond that, your business leaders have two views to monitor employee skills progress in their Executive Dashboard. In addition to their Project Pipeline and Project Portfolio views, they can see 1) Blueprinting Certification Progress and 2) Interview Experience views.
1) Certification Progress view (in Executive Dashboard): Two tabs show how employees are progressing toward each certification type.
2) Interview Progress view (in Executive Dashboard): This shows employees' experience in conducting Discovery and Preference interviews, for all three roles.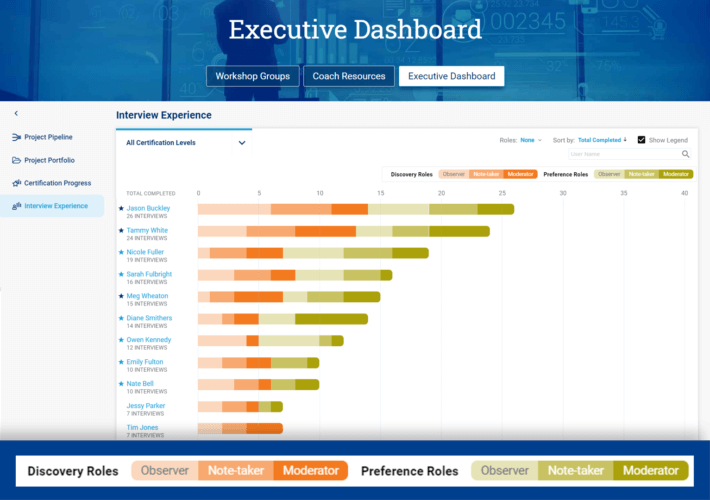 How does this help my company?
Your Blueprinting Center Home Page displays all the licensed Blueprinting users in your company. Those that are Certified Practitioners and Certified Blue Belts are highlighted. This way, new teams can reach out to internal experts with questions… or even ask experienced colleagues to join them on their first project.
Beyond this, Blue Belt Certification is a prerequisite to becoming a Certified Blueprinting Coach. Remember how an AIM Institute Coach helped your team on its first project? With this program, you can replace AIM Coaches with your internal Certified Coaches. This saves your company money and brings experienced coaching closer to "where the action is."
We're keen to support you on this, because ultimately your company's customer insight and organic growth is an "inside job." For more, Contact AIM.