Business Builders: How to become an Admired and Trusted Corporate Leader
Will you join a new breed of corporate leaders who think like an old breed—your company's founders? Will you also help "spread the word" that it's time for leaders to move away from short-term thinking and Wall Street servanthood?
Four types of leaders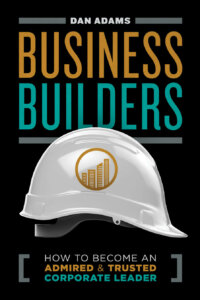 This ground-breaking research examines four types of business leaders, based on responses from 654 senior leaders, middle managers, and individual contributors.
Builders are passionate about delivering value to customers—just like your company's founders.
Decorators are fixated on making the firm look good, quarter after quarter after quarter.
Remodelers are good at improving current operations, but seldom build anything new.
Realtors are mostly interested in M&A, but often fail to grow what they've acquired.
This research shows strong correlations between Builder behavior and faster business growth. Sadly, it also reveals up to two-thirds of today's senior leaders are NOT Builders.
Six common, unforced errors
Surprisingly, leaders can accelerate business growth simply by stopping unforced leadership errors in these six areas:
Primary Duty: The #1 mandate for every business leader should be: "leave your business stronger than you found it." Business Builders don't cross a finish line. They pass a baton.
Job description: Too many business leaders today (41%) are Decorators, fixated on demonstrating "curb appeal" every quarter. They don't understand that financial reporting is a spectator–not participant–sport.
Business Goal: 70% of slower-growth companies have the mistaken goal of maximizing shareholder wealth. This is a lovely result but a lousy goal.
Time Horizon: Business leaders at slower-growth companies have short time horizons and implement cost controls far too frequently. They suffer from "first-domino fixation" and "first-domino amnesia."
Top Initiatives: All initiatives are not created equal: There is only one that leads to profitable, sustainable growth… but this fact is lost on many business leaders.
Results Focus: 72% of slower-growth business leaders are imbalanced toward near-term results instead of long-term capabilities.
Will you help?
Want to be part of a movement where business leaders put the well-being of their company and employees before Wall Street share handlers? Where corporate leaders behave like the founders of their company? Here are two ways you can help "spread the word":
Leave an Amazon review, which prompts their algorithm to display the book to more Amazon searchers.
Would you leave a LinkedIn post telling others about this book? Here's a book cover photo you can include.
Thank you!
Dan