B2B Organic Business Growth video course… a free AIM Institute service
Join Dan Adams on a tour of 50 two-minute videos that will completely change the way you think of B2B business growth.
View any business growth video chapter of interest to you (linked below), or better yet, subscribe to receive a new video chapter daily or weekly.
Sign up to receive each 2-minute video chapter in your inbox
Who is this for?
Viewers learn "why" change is needed, and in later chapters "how" to change. Those who will benefit most are:
board directors eager to demonstrate superior growth to investors
business leaders tired of erratic or sluggish organic growth
technical or business professionals desiring career-boosting capabilities
professors seeking supplemental lessons for oft-overlooked B2B (vs. B2C)
This growth advice is original and proven: Since 2005, The AIM Institute has trained tens of thousands of B2B professionals on every continent, coached hundreds of new-product teams, and conducted original research based on 10,000 years of B2B respondent experience.
View complete course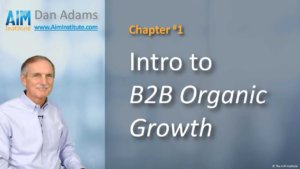 See the list of all 50 two-minute video chapters. Each video chapter is accompanied by an abstract for you to find specific topics of interest to you.
You can also download the Organic Growth Roadmap … which will help your company apply these 50 lessons after viewing them.