Everyday VOCTM training: Turn every customer interaction into actionable insight.
Do your employees have hundreds of customer interactions every year? Imagine this:
They always probe deeply to understand what customers want… and why they want it.
This generates near-term sales, since good probing is a proven key to successful selling.
They capture each customer need in an actionable and uniform outcome format.
You data-mine outcomes in your CRM to spot rising market needs before competitors.

Make every customer interaction count with Everyday VOC (voice of customer) training. Since 2005, we've developed powerful B2B probing methods while training tens of thousands in New Product Blueprinting. We'll train your sales, tech support & others in a 4-hour workshop, with role-playing and post-workshop support. No new software needed: Your people use your CRM system.
Who will benefit?
Two groups in your business will love Everyday VOC training:
Commercial/Sales: SPIN Selling research proved the most successful sales professionals ask, "What are your problems?" and then probe intelligently. This leads to current sales.
Sales leaders: Consider a half-day Everyday VOC workshop
for your next sales meeting!
Marketing/Product Managers/R&D: By data-mining outcomes, you'll spot rising needs before competitors. Your solution-providers will have a head-start, leading to future sales.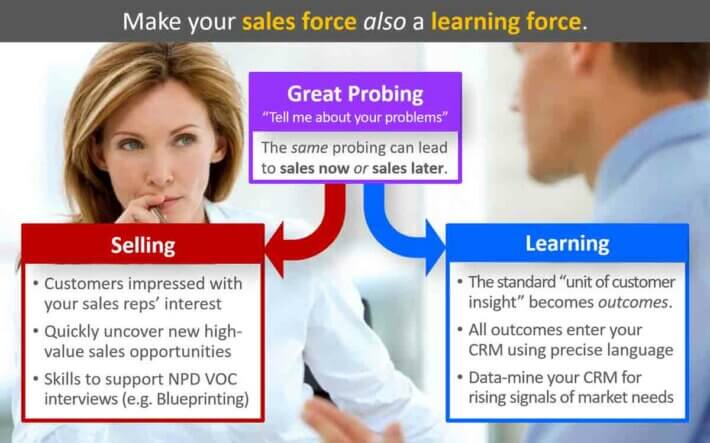 What do you get with Everyday VOC training?
There are 5 integrated training elements:
Workshop: 4-hour session with breakouts for coached role-playing
Resources: E-learning, knowledge center, and valuable probing aids & resources
Post-workshop lessons: 12 weekly emails with advanced skills and tips for practicing.
Post-workshop coaching: 3 monthly coaching sessions per team to solidify new skills
CRM advice: Suggestions from the AIM Institute on how to best use your existing CRM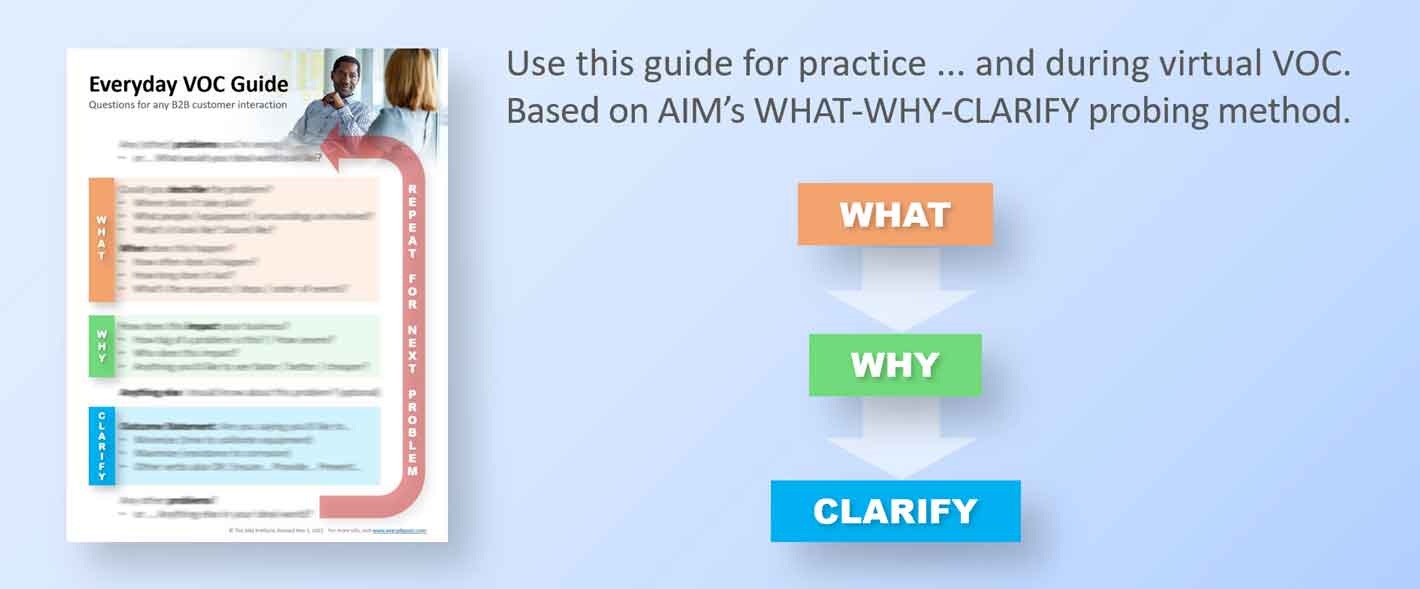 How much does Everyday VOC training cost?
Depending on the number trained, this will only cost about $600-800 per person. This includes everything: Everyday VOC workshop, many post-workshop resources, and 3 monthly coached follow-up sessions for each small team.
Your commercial organization can use Everyday VOC to build on its prior sales training programs, and to sharpen skills at annual sales meetings. And now your entire organization can data-mine uniformly captured, actionable customer outcomes!
Learning more…
For more on our private and public workshops (with costs), visit www.everydayvoctraining.com.
Contact us to learn more and see if Everyday VOC is right for your business.