Ready for your own Blue Belt and Black Belt coaches?
Good things happen after your teams receive their initial (core) Blueprinting training… but there's still more to be done across your organization to drive faster, higher-quality organic growth:
Accelerate Blueprinting teams' project timelines
Coach teams to perform at a higher level
Integrate Blueprinting with other company systems
Drive irreversible cultural change… and more
Much of this work is an "inside-job," and The AIM Institute can certify Blue Belt and Black Belt coaches within your company. This is how you internalize the world's leading B2B front-end-of-innovation practices.
How do I become a certified Blueprinting Blue Belt?
First you must complete your core Blueprinting training, including a) one team-based project and b) all 31 e-learning modules. Then complete the 2-day Advanced Skills workshop, before taking this 3-day Blue Belt certification workshop (during the same week after Advanced Skills or separately). This is an intimate, interactive session led by Dan Adams, accompanied by the most experienced AIM mentors. Note: If you have completed the Blueprinting Advanced Skills workshop, you do not need to attend the first two days of "Advanced Skills / Blue Belt week" prior to the 3 days of Blue Belt training.
Blue Belts learn how to coach colleagues. While core trainees learn "what to do," and Advanced Skills attendees learn "how to do it better"… Blue Belts learn "how to coach others." By understanding Blueprinting's underlying principles, they can address a broad range of issues. Certified Blue Belts then guide teams quickly and effectively through the front end of innovation.
What happens when I am a certified Blue Belt?
When you become a certified Blue Belt, you will be able to help those already trained in Blueprinting. Your company can employ your skills in many ways.
Insert Blue Belts on teams to serve as "project accelerators," anticipating obstacles, avoiding blind alleys, and tightening timelines… because they know when to trim or overlap activities.
Employ Blue Belts as internal "help desks" within business units… subject matter experts who can quickly answer Blueprinting questions and get teams on the right track.
Disperse Blue Belts regionally across global organizations, to ensure Blueprinting is applied in a consistent, high-quality manner.
Place Blue Belts in key strategy, growth and marketing roles to drive cultural change, much in the same way Six Sigma is broadly applied to improve quality and productivity.
What will I take home?
Blue Belts get access to an amazing collection of more than 40 AIM coach resources. There is no additional charge for this beyond normal e-learning access.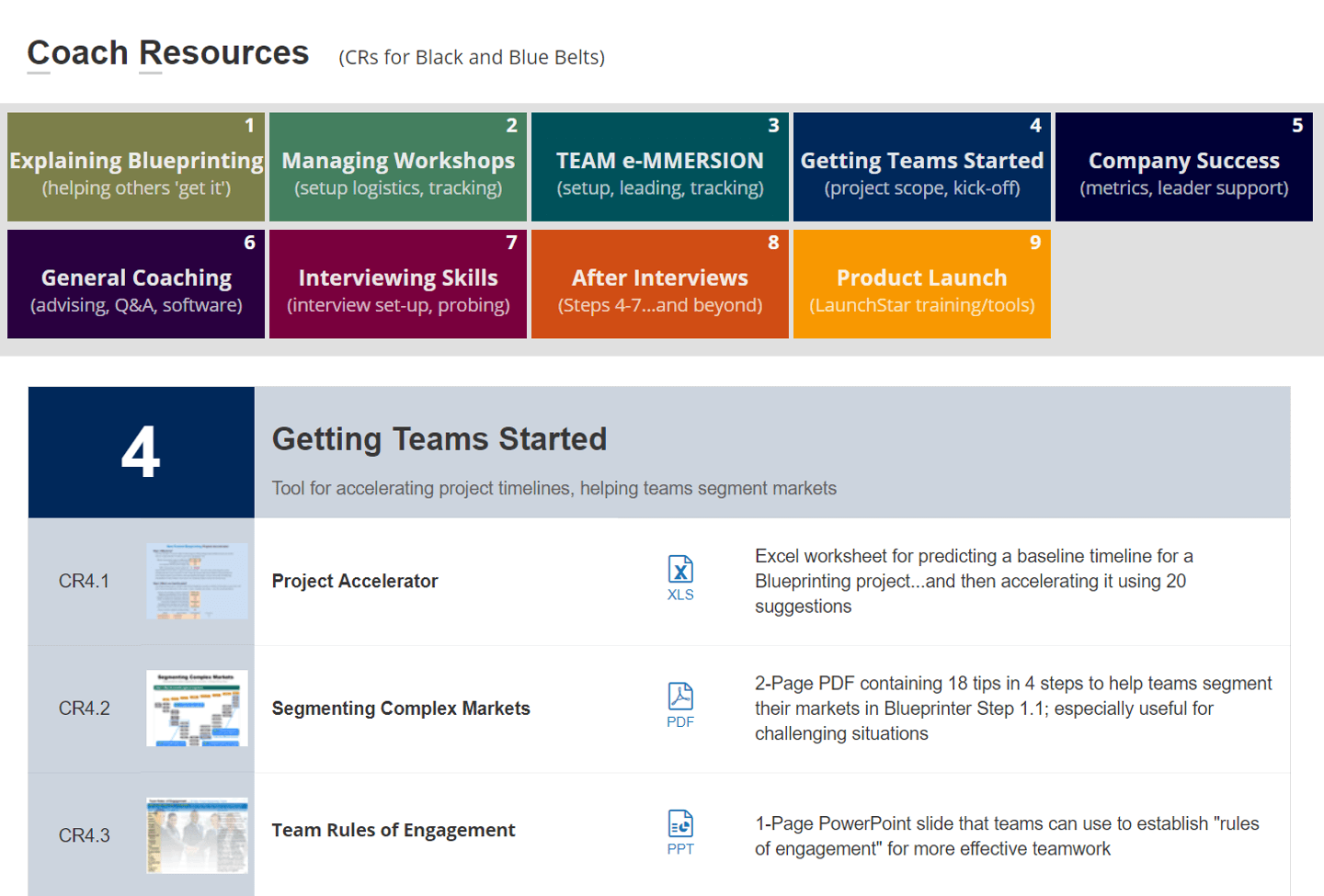 Blue Belts also receive complimentary one-year access to cloud-enabled Blueprinter 5.0. This promotes team collaboration and allows much more effective coaching by Blue Belts.
Upon completion of the 3-day workshop, Blue Belts are qualified to pursue Black Belt certification. This allows them to perform many of the functions typically done by an AIM Coach, saving your company money and improving the "uptake" of best practices. (See Black Belt description below.)
What will I learn?
In terms of content, the Blue Belt workshop covers all 7 Blueprinting steps, but goes much deeper on some topics (such as value calculators), many of which were only addressed lightly in core training. A number of other topics are also covered, e.g. foundational principles, integrating with other company systems, advanced coaching methods, boosting organizational "uptake," etc.
The learning approach for the Blue Belt workshop is much different than what you experienced during core Blueprinting training. This workshop has a very low student-to-trainer ratio, and has relatively little lecture time. Instead, many highly-interactive sessions span all the content, including principles, case studies, breakout exercises, common questions, and personal application.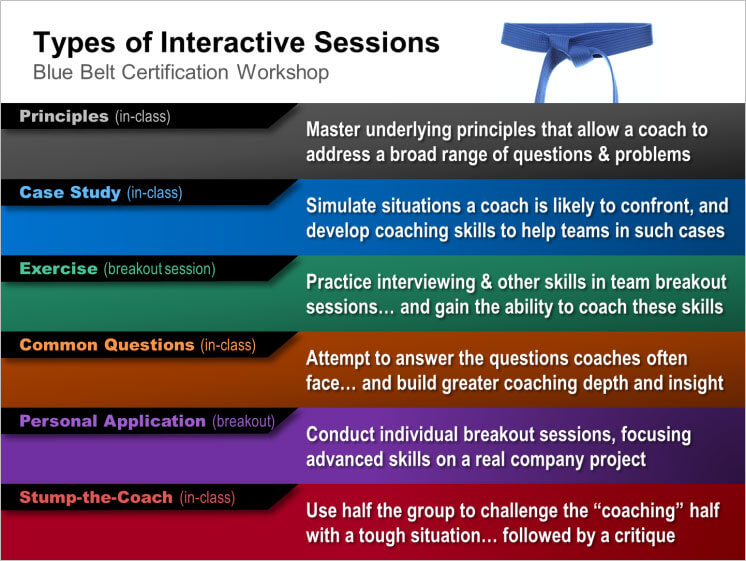 Who is a good candidate for Blue Belt certification?
When you select candidates for Blue Belt certification, consider both organizational position and personal qualifications. In terms of position, look for those who will have a strong impact on your company's organic growth. This often includes those in business development, marketing, product management and technical, and may also include corporate staff, e.g. strategy, stage-and-gate process managers, and portfolio management.
The following background is not necessary, but tends to provide a "boost" for successful Blue Belts: a) product development experience, b) past training/coaching duties, and c) success in applying other systematic methodologies, e.g. Six Sigma. Even more important than specific past experiences are the following personal skills and attitudes:
Strong desire to invest oneself in the success of others… in this case, a new-product team
Good listening, probing and meeting facilitation skills… in person and via web-conference
Ability to overcome road-blocks… often interpersonal, usually unspoken, & sometimes political
Capable of building rapport quickly… important when accompanying teams on interviews
Solid analytical skills… to advise teams after collecting interview and side-by-side testing data
Reasonable computer literacy… including Excel, PowerPoint and web-conferencing
Highly supportive and available… yet able to provide corrective critiques as needed
What is Black Belt Certification?
Candidate Black Belts must first become certified Blue Belts by completing the Blue Belt Certification Workshop. To become Black Belt certified, you'll learn directly from an AIM Coach. You'll "shadow" one or more AIM Coaches during in-house workshops, and receive the same detailed AIM Coach Guideline manual they were trained in.
Once you're fully qualified, you'll be able to replace the AIM Coach in future in-house workshops at your company… as you support the workshop's AIM Trainer. (Blueprinting workshops are typically conducted by an AIM Trainer—who does most of the lecturing—and an AIM Coach.) As a Black Belt Coach, you'll provide extensive coaching during workshop breakout sessions, during post-workshop web-conferences, and as-needed when teams pursue their projects.
The Black Belt certification program brings these benefits to your company:
Significant savings, replacing AIM Coaches at in-house workshops
Exceptionally high levels of Blueprinting competency within your company
Rapid, close-in support without having to contact AIM personnel
Blue Belt registration information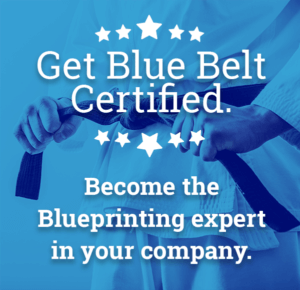 Blue Belt workshop attendance is limited to 12-15 attendees.
Blue Belt Certification workshops are held every year in JuneSpring at The Dively Conference Center on the Campus of Case Western Reserve University in Cleveland, OH. Contact Us for details on the next session. Also, if you want to have a large number of Blue Belt Coaches certified at the same time, we can bring this workshop in-house to your company.