← Back to Training Plans & Pricing
Executive Dashboard for Blueprinting projects
Now your leadership team can manage a portfolio of its New Product Blueprinting projects. The front-end of innovation used to be called the "fuzzy front end"… because nobody knew what was happening here. Too bad, since this leads to high commercial risk… a bigger problem than technical new product risk (a fact documented for the last five decades!)
But if yours is a B2B company, the front-end can be the most understood part of your stage-and-gate process. Every project using Blueprinter software data contains a wealth of data, such as…
Which companies were interviewed, where in the value chain, and which job functions?
Which outcomes do customers want improved the most? (see Market Satisfaction Gaps)
How will customers measure our success in satisfying their key outcomes?
Now your leadership team can have all this data—and much more—at its fingertips. Consider three options:
Import all Blueprinter project data into your "home-grown" stage-and-gate process.
Import this data into a third-party process, e.g. Sopheon's Accolade® system.
Use the Blueprinting Executive Dashboard (at no extra charge for Blueprinting clients).
Let's take a quick tour of the third option, your Blueprinting Executive Dashboard: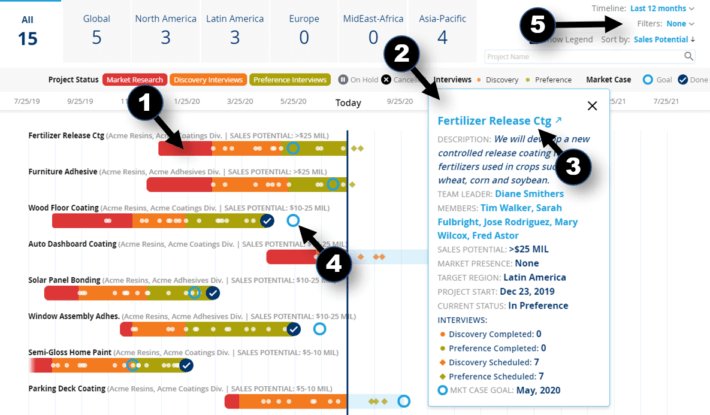 The colors in each project timeline show its Blueprinting phase; white dots show interviews.
Click a project timeline to see a project overview… and click team members to email them.
Click the project name to open the actual Blueprinter project for a "deep dive."
Compare each team's market case goal date to its actual completion date.
Filter, sort and view results by… group & division… time period… target region… sales potential… existing market presence… project start dates… and much more.
If you're already using New Product Blueprinting, it's easy to activate your Executive Dashboard. Just contact us and tell us which executives should have access.
Not using Blueprinting yet? Contact us to learn how you can breathe new life into your stage-and-gate process with amazing customer insight.