← Back to Training Plans & Pricing
Overview of BlueTools® Aids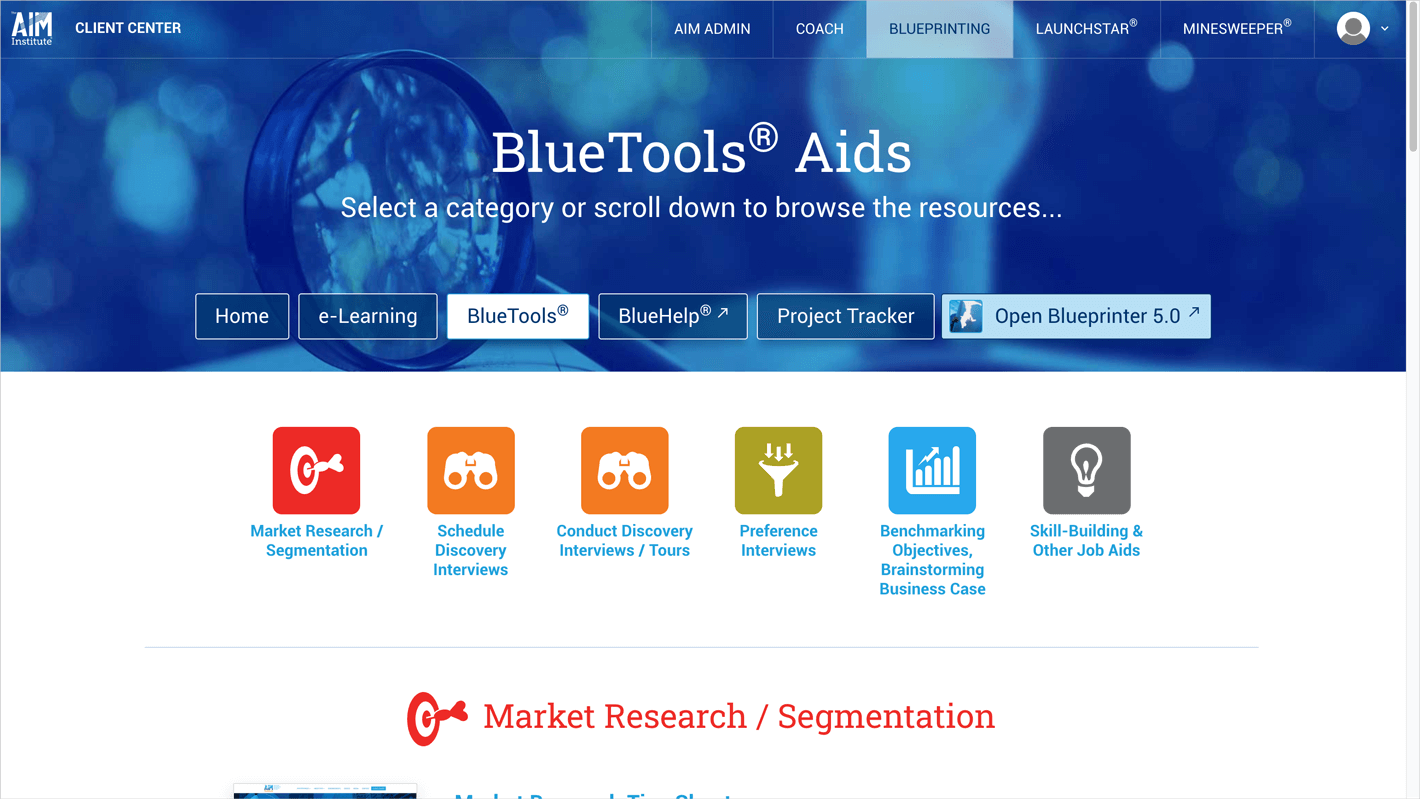 Skilled practitioners need many tools during the front-end of B2B innovation… to convince customers to be interviewed… record customer tours… debrief after interviews… build a value calculator… pressure- test their business case… and much more.
You could let each employee spend their precious time creating their own tools. Or they could use AIM's 20+ suite of BlueTools®… which have been optimized over thousands of Blueprinting projects. Why not let us provide these tools so your teams can do what they do best: interview customers and develop great new product designs?
Here's a sampling of the BlueTools your employees continue to have access to in the Blueprinting Center (even if they don't renew their Blueprinter software subscriptions after the first year)…
Market Research Tips: Teams planning to enter unfamiliar markets use this to find the best secondary research sources: internet searches, multi-client studies and industry experts.
Have You Been Discovered: You send this website url (available in 9 languages) to prospective interviewees to convince them to be interviewed. This is just one of 7 tools for this purpose.
Interviewing in Asia: Over the years we've learned the 19 tips covered here to make culturally-sensitive modifications when conducting Blueprinting interviews in Asia.
Discovery Interview Quick-Start Card: This helps Blueprinting users prepare for Discovery interviews… and probe, handle transitions, and create outcome statements during interviews.
AMUSE Customer Tour Checklist: This helps teams use AIM's tour methodology, with dozens of examples to

A

ccelerate,

M

inimize,

U

pgrade,

S

implify &

E

liminate customer activities.
Business Case Scorecard: This includes over 60 tough questions your teams use to pressure-test their business cases… before stage-and-gate review boards ask them.
Value Calculator Examples: Teams use this Excel-based template to create a customized value calculator for their proposed new product design… to ensure optimal pricing.
It's easy to learn more about these BlueTools. Every attendee at our public virtual workshops (see www.blueprintingworkshop.com) automatically receives a 30-day subscription to the Blueprinting Center, which contains all of these BlueHelp aids.