Blueprinter® Software
Blueprinter software provides a roadmap for teams to flawlessly execute the front end of innovation. Beyond this it…
Gives new product development teams a workspace to collaborate
Helps teams impress and engage customers during interviews
Builds company-wide language and standard practices
Interfaces with—and energizes—your stage-and-gate process
Builds company memory, with a repository of detailed project data
Today, the most critical Blueprinting steps—from Market Research, Discovery & Preference interviews to the Market Case—are found in cloud-based Blueprinter 5.0. To see how AIM clients are winning with this software, see these case stories.
Professional interviews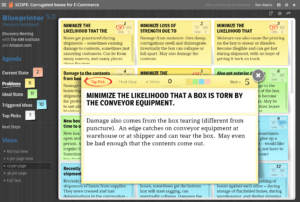 Blueprinter 5.0 software impresses your customers. You can set 9 default languages… record customer votes… change note size… rearrange notes… identify must-haves… display maps to "trigger" more ideas… capture next steps… and send customers a beautiful PDF of their ideas. It's great for web-conference interviews. You can even interview in-person without an internet connection.
Company-wide searches
Blueprinter software has been called "the lab notebook for marketers" because all front-end innovation work can be retrieved years later. Employees can search Discovery interviews across your entire company… to learn what colleagues learned earlier. If customer information is proprietary, you can "cloak" it from your company searches. Also, teams can store shared work files here, e.g. XLS, PPT, DOC and PDF.
View all your projects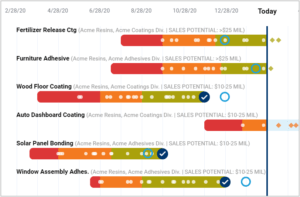 At no extra cost, your leaders can view an Executive Dashboard with your entire portfolio of Blueprinter projects. Just click a project for a summary… and click again to open the actual Blueprinter project. You can import all this data into your stage-and-gate process: No more "fuzzy" front end!
Record customer tours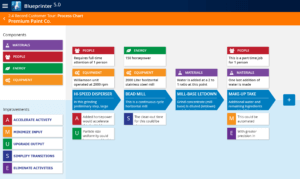 You can record what you saw on a tour, using our AMUSE method for improving a customer process (Accelerate, Minimize input, Upgrade output, Simplify transitions & Eliminate activities). Imagine how fast your new sales and tech support people could get up to speed by reviewing customer processes in their Blueprinter software.
Create a Market Case
After you complete Discovery and Preference interviews, Blueprinter software lets you quickly generate a Market Case. This is compelling justification for moving into the development stage for many projects. The Market Case says, "We have evidence this is an attractive market, and we know exactly what these customers want and don't want." To see how powerful this is, download a Market Case Sample as either 2-page PDF or 6-slide PPT.
Request a guided tour
To learn more about Blueprinter software, contact us and ask for a free, brief "at-your-desk" guided tour. We can acquaint you with not only this software, but our training methods.  In the meantime, check out our 5 Training Plans (with pricing and how to get started).