Learn about Servitization in Webinar on June 15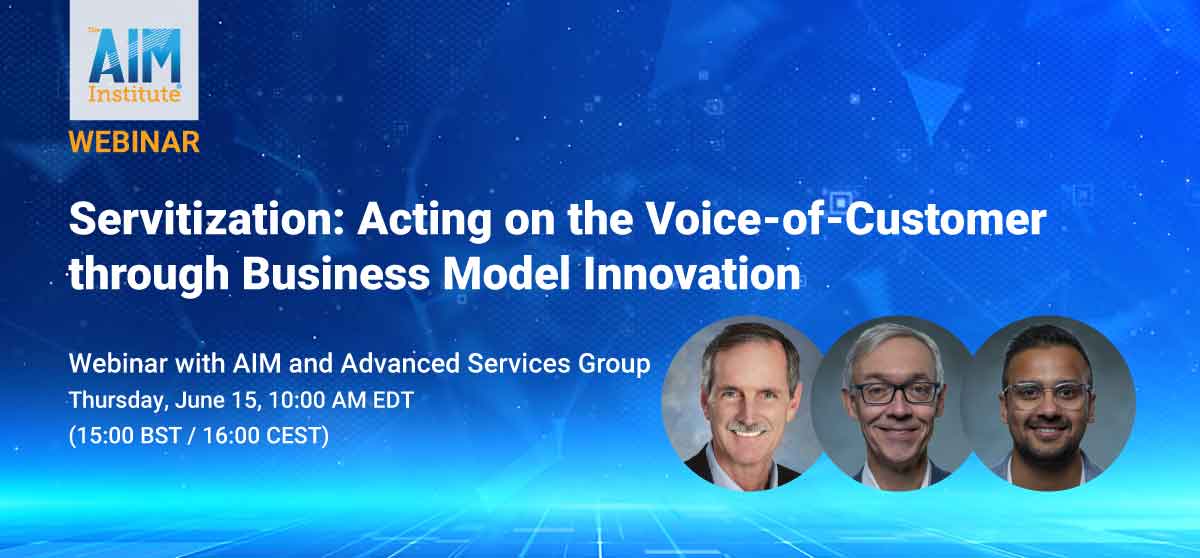 Join Ian Machan and Parikshit Naik with the Advanced Services Group to learn about the concept of "Servitization." on June 15 at 10:00 AM EST.
Over years of research and supporting product-led businesses to compete differently, we have acknowledged and emphasized the importance of truly understanding your customers' needs. While having a 'customer-first' approach is something many businesses claim to believe in, it is sometimes overlooked in practice.
For those businesses that practice such an approach, the Voice-of-the-Customer can be a powerful and differentiating tool. What customers need can not only help businesses improve their product offerings but help them think about their offerings as something more than just products – think about them as outcomes. As the home to the world's highest cited scholars on the topic of servitization – moving away from selling just products to selling product capabilities as outcomes, we strongly believe that customers' voices are an underutilized resource to drive service and business model innovation.
Session Topics:
Why is servitization important?
What does it look like in practice?
How to start with the voice of the customer as your tool?
The presenters will be:
Ian Machan – Managing Director, Advanced Services Group
Parikshit Naik – Business Development Manager, Advanced Services Group
How to join the webinar
Click the "Add to Calendar" button to add the event along with the link to join the webinar to your calendar. No further registration is necessary.
Add to Calendar
About Advanced Services Group
The Advanced Services Group (ASG) helps manufacturing companies and technology innovators on their servitization journey to develop services-led strategies and ultimately transform their business model to compete through advanced services. They have worked with over 450 business, multinational companies and SMEs to develop their growth strategies through services.
Categories: