Upcoming Webinar: AIM and Sopheon present The Future of B2B Gated Processes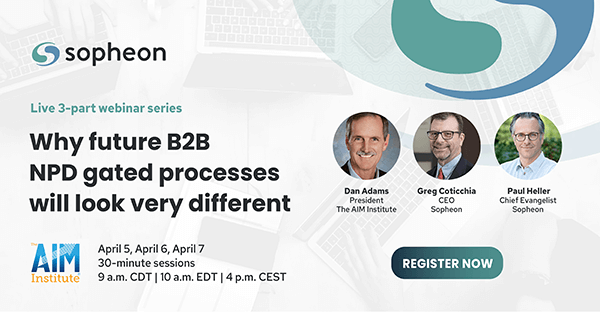 In this 3-part webinar series, Dan Adams from AIM will join Greg Coticchia (CEO, Sopheon) and Paul Heller (Chief Evangelist, Sopheon) to discuss how future gated development processes will incorporate customer insights for 21st-century product leaders
During this discussion, presenters will cover:
New 2022 research about the relationship between customer research and new product success
How to decrease time-to-market while ensuring new products resonate
How gated NPD processes will change in the future for top B2B firms
Webinar attendees will receive a free copy of the 25-page research report demonstrating the strong linkage between customer insight activities and product success.
It will be conducted on April 5, 6, and 7 at 10:00 AM EDT (9:00 AM CDT, 4:00 PM CEST).
Click here to register for the free webinar series. 
About Sopheon
Sopheon partners with customers to provide complete Enterprise Innovation Management (EIM) solutions including software, expertise, and best practices. We have operating bases in the United States, the United Kingdom, the Netherlands and Germany, with distribution, implementation and support channels worldwide. Sopheon (LSE: SPE) is listed on the London Stock Exchange.
Categories: