LaunchStar® B2B Product Launch
NOTE: THE AIM INSTITUTE DISCONTINUED THIS OFFERING IN 2023, LARGELY BECAUSE B2B MARKETING TACTICS HAVE BEEN EVOLVING SO RAPIDLY.  STILL, YOU MAY FIND MANY OF THE PRINCIPLES WE TAUGHT USEFUL, AS DESCRIBED IN THE E-BOOK, 12 RULES OF B2B PRODUCT LAUNCH.
Do your B2B product launches take markets by storm? Do your teams follow a proven roadmap… one that precisely "tunes" digital media, sales tools, lead-generating offers, and more to each specific market? They will with LaunchStar training and software… the world's premier B2B product launch methodology.
B2B-optimized launches
Remember the 4 Ps we borrowed from consumer goods marketers… product, price, place & promotion? A better B2B approach is to launch the Right Product to the Right Market (who to tell) with the Right Message (what to tell) using the Right Media (how to tell). And using this sequence ensures a cost-effective launch, since you won't waste agency fees pursuing the parts you should own: "who" and "what" to tell.

With LaunchStar B2B product launch training and software, your product launch teams will…
Dramatically boost new product "findability"
Create powerful new online marketing tools
Use engagement—not interruption—marketing
Get inside prospects' heads with positioning
Make your sales professionals look brilliant
Use word of mouth to build buzz… and more
Modern promotional tools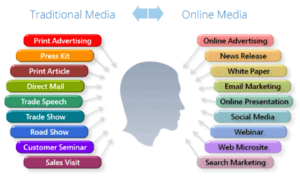 The rules for reaching B2B prospects are changing fast: In 80% of B2B transactions prospects now find suppliers, not the other way around. If you're not more internet "findable" than competitors, it's likely "game over" for you. But don't ignore proven traditional methods, such as trade shows and sales visits. LaunchStar B2B product launch software guides your teams through a process we pioneered to customize the best promotional methods to each market segment. Teams select just the right balance of methods from 9 traditional and 9 online media. Without this, your teams will overspend and underperform.
Project management tools
Your multi-functional teams will use cloud-based LaunchStar software to collaborate on all their launch planning. They'll use it to build a work plan… manage a budget… plan sales tools and training… track metrics… set up lead qualification… and much more. They can even plan global launches with regional nuances. There's nothing missing. They'll finish with a comprehensive Executive Summary Launch Plan to gain launch approval. You can even link this team-support software to your enterprise stage-and-gate software to save double-entry by teams.
Your teams develop impressive new product launch skills through our one-day workshop, web-conferences and/or e-learning. Then you'll go from quietly "releasing" products to igniting exciting launches. Learn how to take your product launches to a new level:
12 Rules of B2B Product Launch
Download this e-book by Dan Adams to learn the principle behind dynamic B2B product launches.
LaunchStar Training
Learn the LaunchStar product launch methodology with either a 1-day in-house workshop or online training. Then bring home LaunchStar software and e-learning… and check it out on one of your new product launches.