LaunchStar® B2B Product Launch Software
Dynamic, rock-your-market product launches are rare for most companies. Teams "make it up" as they go, then quietly "release" their products. This all changes with LaunchStar product launch software, the ultimate suite of B2B product launch tools. With this cloud-based software, you'll:
Select the perfect promotional media from 8 possibilities
Follow a launch roadmap that leaves nothing to chance
Provide a place for teams to collaborate and share documents
Generate 5 launch reports… and build customized ones
Maximize your budget with advanced budgeting tools
Easily edit project management Gantt charts
Plan sales tools and a pre-launch training program… and more
LaunchStar product launch software lets team members work individually – without the internet – and later synchronize with teammates via the cloud. It has an intuitive interface that allows individual users to access all the reports, project management aids and launch tools without ever leaving the home screen. Best of all, the software helps users launch their new product in an easy, repeatable, and dynamic way.
LaunchStar home screen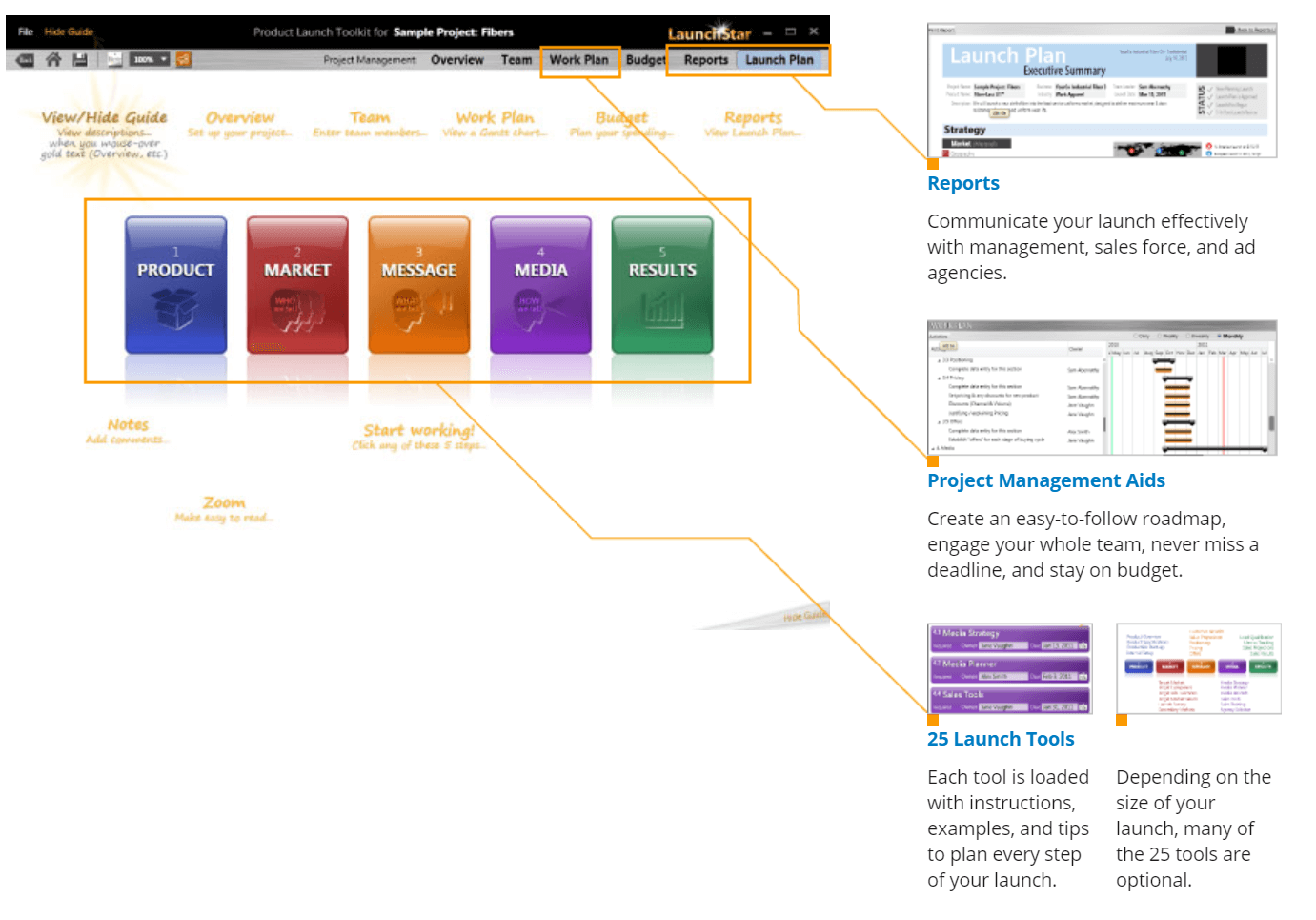 Navigation is easy: You never lose sight of the home screen buttons. Your team plans its work activities, and record results against metrics after launch. A helpful overlay guides you through the software and gives you tips along the way.
5 Standard reports (+ customized)
These easy-to-read reports are automatically generated from this product launch software…
Executive Summary: Tell management and anyone else your launch story in a single 2-page document.
Prospect Profile: Describe target prospects to ad agencies with crystal clarity… including target job functions.
Message Brief: Don't pay your ad agency to guess at the right message: Hand it to them in incredible detail.
Media Guide: Use powerful LaunchStar product launch software tools to create a media strategy…and document it here for a media blitz.
Launch Results: After launch, track success for up to 5 years. Apply what you've learned to plan future launches.
Customized Reports: Assemble your own reports to communicate with the sales force, customer service, etc.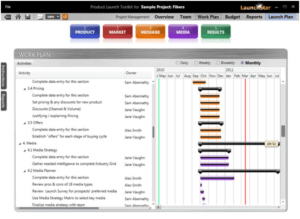 Project management aids
Begin with a pre-populated Gantt chart full of key launch tasks… and then modify to meet your needs. An advanced budgeting tool helps you itemize how much you'll spend and when you'll spend it.
25 Launch tools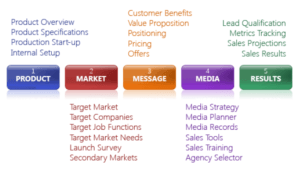 25 Launch tools are grouped logically under 5 steps. When you open a tool to work, you can see at a glance who "owns" the task and its due date. You won't do more work than you need to: Depending upon the size of your launch, many tools are optional. Each tool in this product launch software is loaded with instructions, examples, and exciting up-to-date B2B launch techniques.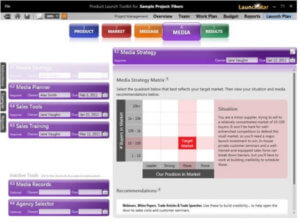 Many of these powerful tools include techniques not found elsewhere… such as the two-question launch survey for understanding the best way to promote in your target market. What do our clients rave about the most? The planning tool for selecting the right promotional methods from 9 traditional and 9 online possibilities.
Free trial
Want to check out this cloud-based product launch software for your company? Just contact us to set up a free trial.