What's Your B2B Company's Innovation Maturity Level?
In the next few moments, you'll be able to classify your company's B2B innovation maturity level as Level 1, 2 or 3. There are actually four levels, but I know of no B2B company currently operating at Level 4. More on that later. Most companies operate at Level 1 or 2, so you can reap huge rewards today by simply reaching Level 3 ahead of competitors.
The Levels of B2B Innovation Maturity
Level 1: Solution Push  Here, a company starts with its own ideas and launches solutions they think their customers will want. This is the most primitive form of innovation, is clearly supplier-centric, and remains wildly popular today.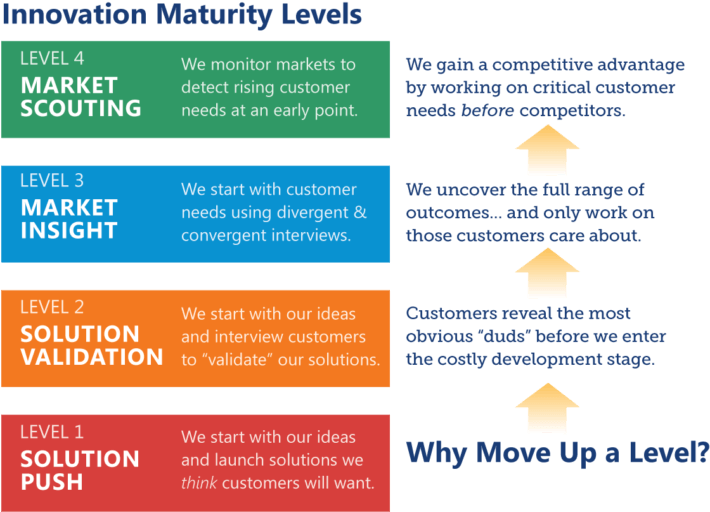 Level 2: Solution Validation  The company still begins with its own ideas of what they think customers will want… but they at least meet with customers to "validate" their solutions. This is still supplier-centric, but has an advantage over Level 1: If their idea is an obvious "dud," there's a good chance they'll learn this before entering the costly development stage. And yet, this is a pretty big step up from the B2B innovation maturity level 1.
Level 3: Market Insight  This is true customer-centric, B2B innovation. The supplier begins with divergent and convergent interviews to explore desired market outcomes. It's OK if the supplier has "hypotheses"… as long as they test them silently. (That is, they are so open-minded that the customer being interviewed never suspects they have possible solutions in mind.) This brings two enormous competitive advantages: 1) a much larger set of possible outcomes to consider, and 2) clear direction on which of these outcomes customers want improved. More insight is indicative of greater B2B innovation maturity.
You can reap huge rewards today by reaching Level 3 ahead of competitors.
Level 4: Market Scouting  This is the highest B2B innovation maturity level. The supplier has built a robust "early-warning" system to detect rising market needs as soon as there are early ripples, not full waves. (More in the white paper, Timing is Everything, pp. 10-12… with gratitude to my co-author, Fran Behan of Corning.) Level 4 doesn't yield deeper insights than Level 3; it just delivers these insights earlier. As a result, the supplier can explore and refine possible internal and external solutions well ahead of competitors. You'll certainly need proper voice of the customer tools to cross into Level 4.
Why B2B Innovation Maturity Level 2 simply isn't good enough
Most reasonable people understand the pitfalls of Level 1. Simply launching products at customers (picture the catapult we've discussed in earlier issues) has to be the most inefficient way to understand market needs. This solution-push method has been discredited for decades, but if this your company's current level, I have good news: You can easily leapfrog from Level 1 to Level 3.
With Level 2, is this good enough for B2B innovation maturity? Are we "done?" Well, no. There's a subtle danger in Level 2. Most Level 1 practitioners understand they should have serious conversations with the people they hope will use their products. But Level 2 practitioners are already having customer discussions… so they think everything is just fine. Sadly, they are mistaken.
In Level 2, you don't learn about market needs… just market reaction.
If your company's B2B Innovation Maturity is at Level 2, you've been visiting customers to "validate" your ideas (your hypotheses or potential solutions). A major pitfall in this approach is confirmation bias. It's very likely you'll hear what you want to hear… and your customers will tell you what they think you want to hear.
But there's a second, larger problem. In Level 2, you don't learn about market needs… just market reaction. To a single idea. Your idea. In the front-end stage, you only learn if customers like your idea… the one you put in front of them to "validate." And when you launch your product, you only learn how much customers liked your idea.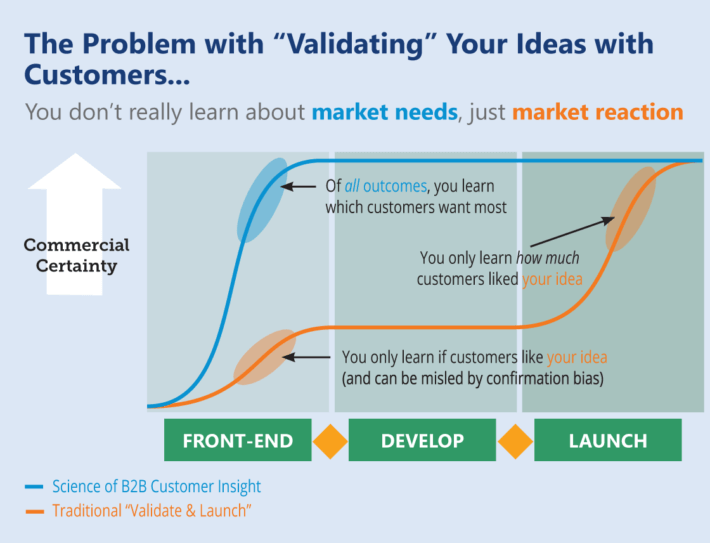 B2B innovation maturity at Level 3 focuses on the customer, not the supplier. You begin with divergent Discovery interviews, so customers can lead you to whatever is important to them. You then conduct unbiased, quantitative Preference interviews to converge on customers' important, unmet needs.
When you operate at Level 3, the obvious advantage is you minimize commercial risk before entering the costly Development stage. You avoid applying R&D resources to outcomes customers don't care about.
A less obvious advantage is your new product is more likely to be a blockbuster. That's because you considered dozens of possible customer outcomes, many of which you never expected. Our experience in hundreds of global industries is that unexpected outcomes often lead to the most exciting and valuable new products. The view is worth the climb… to go from one B2B innovation maturity level tot he next.
Taking the elevator to Level 3…
Your company's first step to real change… is changing its thinking. You can help by exposing decision-makers to Level 3 thinking. I encourage you to download our new white paper, Timing is Everything. You'll see all four levels explained on pages 12-15.
The AIM Institute has resources to support your B2B innovation, our proprietary software, our collection of white papers at www.AIMWhitePapers.com and our blog at The AIM Institute.
Increase your company's B2B innovation maturity! Begin here with AIM's selection of whitepapers. 
Categories: