B2B Organic Growth Series: Chapter #32
When to use "hired guns" for VOC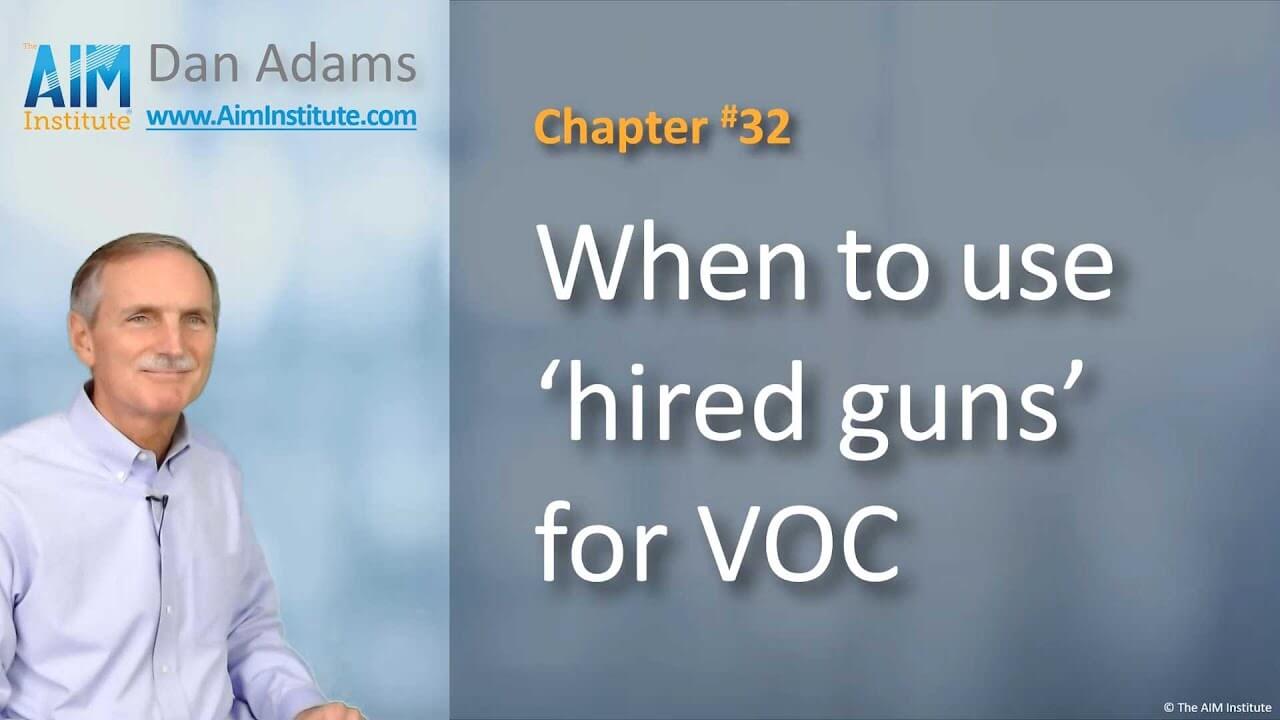 Subscribe to the series. Get 50 free videos, sent daily or weekly.
Should you hire a firm to conduct your voice-of-customer interviews, or train your own people to do this? Consider these four factors to find the answer for your business.
b2bgrowth.video/32 Video length [2:34]
Transcript of Chapter 32
These videos have been showing you how to conduct great B2B voice-of-customer interviews… sort of a "do-it-yourself" approach. But are there times when you should use an outside firm—"hired guns"—to conduct your interviews for you?
Consider 4 factors. First, what is the likely annual revenue of your new product? If you make phones, your revenue might be in the hundreds of millions of dollars. But if you make the phone gasketing material, it will be much smaller. Hired guns are used when you have a big budget and success is all about this product launch. But you'll do-it-yourself if you need the expertise for developing many new products every year.
The second factor is the number of buyers. If you have millions of potential consumers, you'll hire outside expertise to handle the sophisticated surveys and statistics needed. But if you're dealing with just a few phone producers, you'll do-it-yourself so you can engage them, build relationships and "prime" them to buy your product later.
Third, consider the insights to be gained from interviews. If they are limited to the data from end-consumer surveys, a marketing firm's summarized report is fine. But if you could gain deep insights from phone engineers, do these interviews yourself for first-hand learning… the "ah-hahs!" you'd never get out of a dry report.
Finally, think of the number of customer visits your employees conduct annually. If you're not already spending much time with end-consumers, have a marketing firm conduct periodic market research. But if your sales and technical people are making thousands of customer visits each year, learn to do-it-yourself… so you have insight skills for all customer visits.
So should B2B companies ever use a market research firm? Yes, maybe you're entering a new market and don't want to telegraph your intentions. Or need help screening several potential markets. Or qualifying interview candidates in a target market.
But don't forget our earlier mantra. To out-grow competitors, you need to "understand and meet customer needs better than others." Be careful about outsourcing the "understand" part of this.